The Denver International Airport Exhibit - Expanded
Brief exerpts of the stories from the book - The Trujillo Family: El Rincon Farm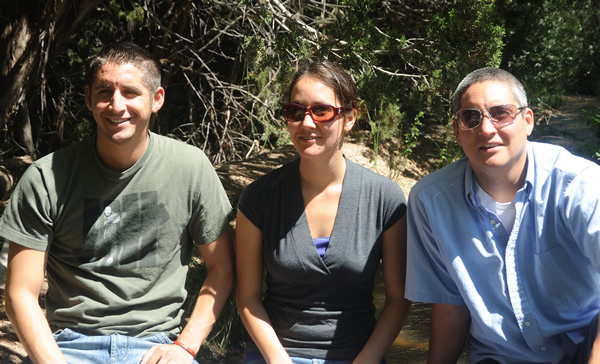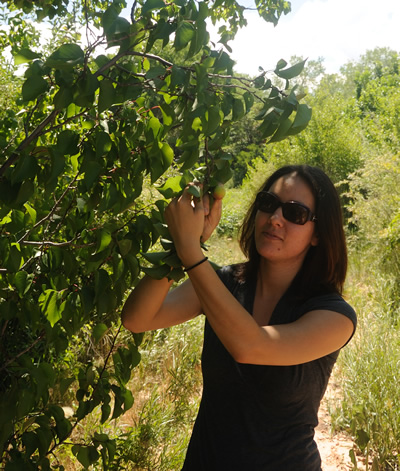 Pilar: Our mom is from south Texas, Mexican-American. Our dad is a native New Mexican. They farmed this land in the 70s, when they were first married. They had Adán, then Omar. In 1979 or 1980 they all moved to El Rito, another little river town where I was born. After that we moved to Espanola so they could get better jobs. They kept the land and this house. We always came back to Chimayó during the summer. My grandfather built this house. There was an apple orchard, plum trees, and apricot trees. In the summers we would return to harvest the fruit. In the spring of 2007, we decided to start farming again. The previous winter, one of Omar's friends came down from Vermont. That changed everything. He saw our land and just freaked out at how amazing it was!
Omar: Daniel stayed with us for ten or eleven months. Until Daniel got here we weren't actually doing anything. We bought a new tractor and began to figure out how to get the property ready. Daniel hadn't worked with "furrows," he hadn't worked with "channels," he hadn't worked in the desert. So it's been a learning process. Each year we learn more. We stuck to the traditional ways. We irrigate by flood irrigation. Most of the farms around here do drip irrigation. We pulled out all the weeds by hand (we learned that's a big mistake.) We'd like to be able to grow everything that we need right here. We'd also like to encourage other people in the valley, in Chimayó especially, to do the same.
Adan: In Spanish, Rincon means where the natural hills create an inside corner. Our Trujillo ancestors settled this little corner of land, "Trujillo Hollow."
When you have such a tiny land base, and you have a population that's been there for hundreds of years, what they own gets smaller and smaller. If I have an acre and I have four kids, when I pass away I give each of them ¼ of an acre. If they have four kids, then they have to split it up into smaller and smaller pieces. My dad said it used to be a requirement that the smallest pieces of land had to be just wide enough for you to turn an oxcart around and plow. There were many Trujillo landowners who had all gotten their tiny parcels over the years. When they started to pass away, my dad began to purchase them, consolidate them, like pieces of a puzzle. Owning 20 acres in Chimayó is a huge piece of land. Online at: Las Acequias.org
Here is our dessert recipe for biscochitos- which are actually the state cookie now! My mom and I make these every year for Christmas- they are a holiday staple, along with tamales and posole. It is pretty important to use lard- not vegetable shortening- for true biscocho flavor.
Cream lard and sugar. Add anise and eggs. Sift flour, baking powder and salt together. Add alternately to first mixture flour and liquid. Roll out 1/8" thick and cut with cookie cutter or fancy shapes. Sprinkle with cinnamon sugar. Bake in 375 oven 8 to 10 minutes until golden brown.
Biscochitos
2 cups lard
1 cup sugar
2 eggs
2 tsps anise seed or anise extract
3/4 tsp salt
1/2 cup brandy, wine or water
6 cups sifted flour
3 tsps baking powder
Cinnamon sugar
Grind the apples in the food processor until it become apple saucy.
Fill your pie pan with the filling, decorate the top and serve for a breakfast of champions!