The Denver International Airport Exhibit - Expanded
Brief exerpts of the stories from the book -

Daniel Salatin:

The Polyface Farm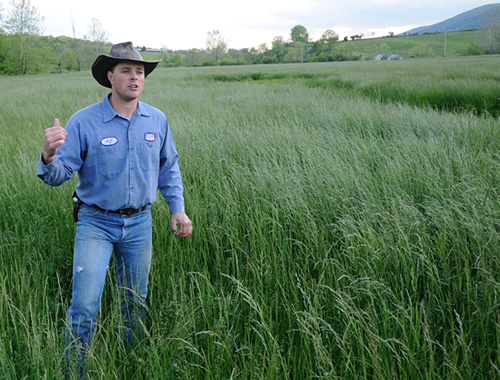 Daniel Salatin: I started butchering chickens when I was 3 or 4, like my son, Travis. I'd watched my dad do it 150 times and then it was my turn. Before that, he'd explained it 500 times. My sister was in charge of starting the chicks, and the flower gardens. When I was about seven I started raising rabbits because my dad didn't know anything about them. I wanted something that was my own. I wrote a little anecdote about them and put it in the farm's spring newsletter. Suddenly orders came in for 150 rabbits. At seven, I could pretty much do 90% of the work. I really got into looking at feed rations and ratios, looking at how things were done before soybean meal and pellet feed came along. I learned how to keep records on everything from the genetics to the finances. I purchased the feed by just keeping a cash account, learning that if I only had enough money for one bag of feed, then that's all I got.
For a long time we were perceived by Big Farmers as "cute" with our 100 acres. They had 500 cows on huge spreads. They said our land management ideas wouldn't work for farms their size. Now we have 1000 acres and 500 cows and we can tell them, "this is still working for us. It still makes a lot of sense." We've expanded our arena by renting additional property for pastures. Folks drive by, see me rolling up cross fence, giving the cows a new paddock. They're still hauling hay. They now give some thought to what we're doing. When I buy calves, they ask if I make corn silage. I tell them no, my cows are pasture fed.
We are growing like crazy and people ask us what keeps us from becoming another Wal-Mart. That's one of our biggest fears. Dad wrote this in our spring 2008 newsletter:
"Core Distinctives: Because some of you have expressed concern that we are turning into an empire – and frankly all of this scares us too – we have articulated some core distinctives to keep us from Wall Streetifying. We aren't finished yet, but these are a start at least: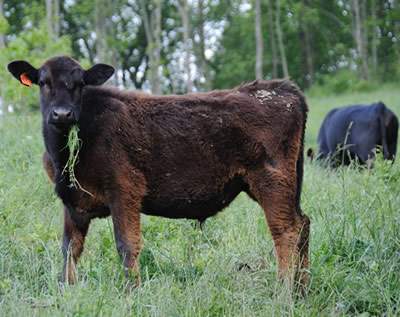 No Shipping. No delivery beyond 4 hours (close enough that a patron can drive to the farm and inspect us and return home in a day).
No sales or marketing targets and objectives. Growth completely organic.
No manure hauling offsite – only as much manure generation in an area as that land base can metabolize. No trafficking in manure. Ecology dictates concentration. (This immediately cancels out CAFO- Concentrated Feedlot Operation – where you take the manure and haul it someplace else.)
Never go public with stocks or the business (Eliminates tempting and prostitutionary infusion of cash). Not to be confused with interested, knowledgeable investors.
No trademarks or copyrights. No secrets. We've helped start hundreds of folks, and if we fear competition, then we don't have confidence in our own creativity to stay viable.
No regular public advertising. Expansion only by word of mouth through satisfied patrons. Specialty ads in targeted spots for singular events is okay.
Every worker should have a commission-based opportunity. Jobs must be free of repetitive motion syndrome. As few employees as possible – use subcontractors and commissions.
Expansion can never compromise quality. Beyond that, quality must increase. If it's not healing, it's not Polyface."
Number 9 would be avoiding multi-year debt, or having a benchmark pay-back for capital investment – like a 5-year payback. If we have to invest in something that takes more than 5 years to pay off the capital outlay, then it's too much. We need to figure out a cheaper way to do it.
Online at: Polyface Farms.com
Breakfast is our favorite meal:
Cut the potatoes into small, bite-sized cubes and fry in either olive oil or lard until almost tender. Add the sausage to the pan and fry until browned. Mix eggs in a bowl and then pour over sausage and potatoes. Stir around until eggs are cooked. Serve on warm tortillas with salsa, sour cream, cheese, tomatoes or anything else you would like. You can adjust the amount of eggs, potatoes and sausage as desired. There really is no set number of any.
Breakfast Tacos
3-4 Potatoes
1 lb Breakfast sausage bulk
6 Eggs
Tortillas