The Denver International Airport Exhibit - Expanded
Brief exerpts of the stories from the book - The Shaw Family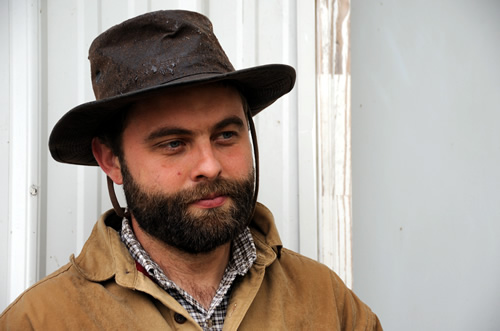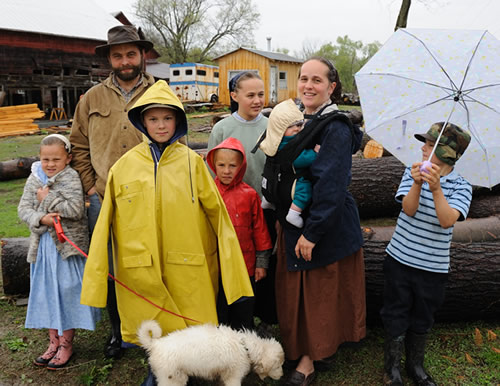 The Shaw Family has a 70-acre poultry farm in Greenwich, New York and around Thanksgiving some of the best turkeys in the area. The rest of the year they can be counted on for scrumptious chickens, ducks, Guinea fowl and rabbits. They have nine children and one on the way.
Ben: We found this place at the right time and for the right price. I quit my high paying corporate job and we began trying to decide how to make a living off of the farm. We ended up choosing pastured poultry because it didn't take a huge up front investment like milking cows. We also opened up a state certified processing facility so we could sell our poultry to local restaurants and down in the city through "Farm-to-Chef." Thanksgiving is our big time –lots and lots of people come up here to get turkeys. We've been doing it for over three years now– our bills are paid and we're making a living.
Jeannette: We make our living on the poultry but I grow herbs too. We have a bulk food store where I sell all kinds of culinary and medicinal herbs. This is one of our favorite recipes:
Fry onions, carrots, parsnip, rutabaga, turnip, and potatoes in the oil. Add paprika, tomatoes, and chicken broth. Mix cornstarch and water and add to the pot. Cook 15 minutes. Add sour cream, meat, and parsley.
Garden of Spices Goulash
2 onions
3 carrots
1 parsnip
1 rutabaga
1 turnip
¼ cup vegetable oil
4 Tbs. paprika
12 small new potatoes
2 cups chicken broth
2-4 tsp. cornstarch
1 ½ cups water
2 Tbs. chopped parsley
4 lbs. cooked chicken or turkey
2-4 Tbs. flour
1 16oz. can stewed tomatoes