The Denver International Airport Exhibit - Expanded
Brief exerpts of the stories from the book - Andrew Coté: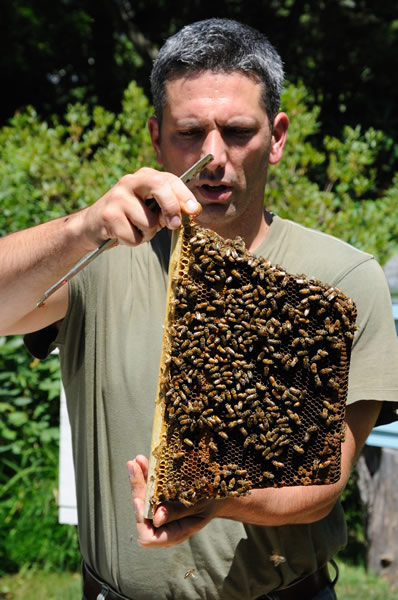 Andrew Coté: A bee's job is to pollinate flowers and to gather nectar to bring back to the hive so the colony can live and thrive. Did you know that bees have pollinated one out of every three bites of food we take? Watermelon, apples, peaches, onions – we wouldn't have them without the industry of the honeybee…
…Prior to the 1990 war there were half a million hives in Iraq now there are just 20,000. I traveled there in 2005. That's because when the Iraqi troops withdrew from Kuwait, they set the oil wells ablaze, spreading noxious smoke as far north as Baghdad. Some fires burned for years killing off many of the honeybees. Beekeepers have not been able to move about freely to tend their hives due to the ongoing war.
I traveled to Iraq under the auspices of the U.S. State Department to help the the Kurdish minority in Iraq re-establish their beekeeping traditions. Just recently I've incorporated "Bees Without Borders" as a non-profit so I can continue to do work I've been doing for years on my own dime. Our mission is to empower people living in destitute conditions in isolated areas of the globe, teach them about underused resources, how to create a cash crop from maintaining hives, harvest honey and produce honey products. Online at: Bees Without Borders.org
I love this recipe:
Bring water to a boil. Add couscous, butter and salt, cover and remove from heat. After five minutes, fluff with a fork. Meanwhile, in a large bowl, whisk together yogurt and honey. Add fluffed couscous and remaining ingredients and stir to combine. Serve immediately or cool and refrigerate for up to two days.
Couscous Salad with Honey & Pistachios
2 cups water
2 cups couscous
2 tablespoons butter
1 teaspoon salt
¼ cup yogurt
¼ cup honey
1 cup small or diced vegetables
(such as whole peas or edamame, diced carrots, diced zucchini)
1 small red onion, diced
½ cup pistachios
¼ cup parsley, finely chopped