Buy the book:
Bulk discounts available.
At: Amazon.com, or your local independent bookstores throughout the country.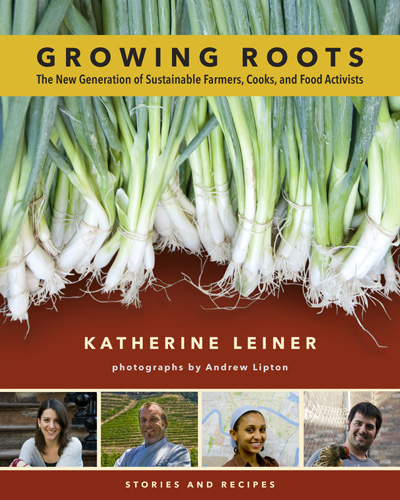 As Michael Pollan says about the book: "Growing Roots introduces us to a few dozen young food pioneers through their words, photos and, even more usefully, through their recipes. Think of it as a community cookbook for the food movement."
Alice Waters says: "Seeing the publication of 'Growing Roots: The Next Generation of Sustainable Farmers, Cooks and Food Activists' fills me with hope. It was not so long ago we feared there wouldn't be enough individuals to fill a book like this, let alone the incredible movement of young sustainable farmers, cooks and activists who are spreading exponentially across the nation. Katherine Leiner has compiled a wonderful anthology of revolutionary, individuals who continue to push for the holistic change we need to see in the food system."
EVENTS and ARTICLES by Katherine Leiner
2011: November:
YouTube Video of Katherine and Andrew Lipton speaking at the New York Society Library:
NYSL Talk on YouTube