Buy the book:
Bulk discounts available.
At: Amazon.com, Barnes & Noble.com or your local independent bookstores throughout the country.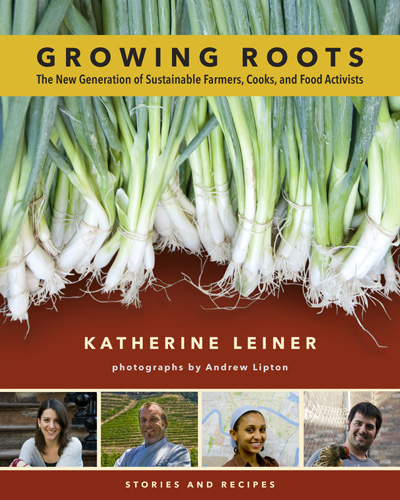 As Michael Pollan says about the book: "Growing Roots introduces us to a few dozen young food pioneers through their words, photos and, even more usefully, through their recipes. Think of it as a community cookbook for the food movement."
Alice Waters says: "Seeing the publication of 'Growing Roots: The Next Generation of Sustainable Farmers, Cooks and Food Activists' fills me with hope. It was not so long ago we feared there wouldn't be enough individuals to fill a book like this, let alone the incredible movement of young sustainable farmers, cooks and activists who are spreading exponentially across the nation. Katherine Leiner has compiled a wonderful anthology of revolutionary, individuals who continue to push for the holistic change we need to see in the food system."
CURRENT EVENTS and ARTICLES by Katherine Leiner
2011: November:
YouTube Video of Katherine and Andrew Lipton speaking at the New York Society Library:
NYSL Talk on YouTube
"Growing Roots: The New Generation of Sustainable Farmers, Cooks and Activists" focuses on who's growing our food these days. With consumers turning their attentions from the manufactured to the local and organic, Katherine Leiner goes in search of how growing food in America is changing. What she finds is surprising: a highly educated generation—many of whom were not born into that life—are redefining agriculture.
Music composed by Mario Grigorov - Video by Wheelhouse Creative in NYC