Saturday, August 14, 2010, Growing Roots was officially released at the Santa Fe Farmers Market.  And what a beautiful, bustling market it is.  Right at the train station, organic vendor after vendor.  We set up early under a canopy with Collected Works Bookstore and the help of both Alli and Joel.  The sun was bright, the sky a deep blue, and hoards of people milling about.  I did my own shopping early, before the crowds arrived.  I was desperate to get peppers!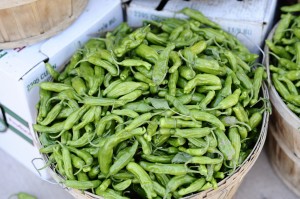 The night before we'd had a great dinner at  the home of my good friend and college roommate,Victoria, and her husband Aku. Victoria had prepared a huge bowl of Shishito Peppers which are absolutely one of the most divine southwestern delicacies.  They are small, almost spicy, green peppers the size of an index finger.  You should eat them within 24 hours of when they are picked; the fresher the better! According to some, the Talon de Gato Farm introduced these peppers to the Santa Fe Farmers Market in 2003, the original heirloom seeds coming from Japan and Spain.  I looked over Victoria's shoulder as she prepared them:
Ingredients:
8 ounces of Shishito Peppers
2 Tablespoons of Olive Oil
Sea Salt to taste
Preparation:
Heat a clean heavy skillet (Victoria used a well seasoned iron skillet) on medium heat until just smoking.
Add 2 tablespoon fine olive oil (I used a good quality oil and then added a few drops of Skipstone's Makena as a treat) and a full layer of peppers, loosely spaced. The oil should be very hot so that the peppers are seared.  Shake the pan until the peppers blister and puff up without burning.  When the peppers start to deflate, empty the pan onto a paper lined plate and sprinkle with sea salt (I used Redmond Real Salt from Utah).  Serve immediately and eat with your fingers!!!!
Among others at the market I also met the Katz family from the Boxcar Farm in Llano, New Mexico, who offer specialty garlics from around the world.  They had Cichi, a mellow porcelain garlic from the Republic of Georgia, Red Rezan, a purple stripe stiffneck from a town outside Moscow, Transylvanian garlic from Romania, Ayacucho, a deep purple garlic from Peru, and many, like Penasco Blue, Santa Fe Roja, and Chamisal Wild, all local to the area.  It was so fabulous to see so many varieties of garlic.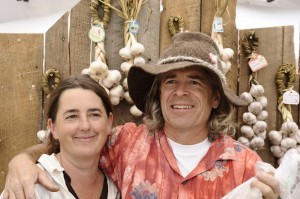 On the drive back to Durango, we stopped along the way to let Luna run.  This is what we ran through….could it possibly be more spectacular!